Farmington, Jan. 24, 2023 (GLOBE NEWSWIRE) — The Global Cryptocurrency Market Was Valued At USD 4.25 Billion In 2022 And Is Expected To Expand at a CAGR Of 12.2% From 2023 To 2030. Cryptocurrency, which is also called "virtual currency," only exists in digital form and is not controlled by any government. Distributed ledger technology, like blockchain, is used by cryptocurrencies to make sure that transactions are valid. The growing use of distributed ledger technology is expected to drive the growth of the cryptocurrency market over the next few years. More people are likely to use cryptocurrencies to send money across borders because fees and exchange rates are lower. This will help the market grow.
Request Sample Copy of Report "Cryptocurrency  Market – Global Industry Analysis, Size, Share, Growth Opportunities, Future Trends, Covid-19 Impact, SWOT Analysis, Competition and Forecasts 2022 to 2030", published by Contrive Datum Insights.
Recent Developments:
In March 2018, NVIDIA announced a series of new technologies and partnerships that expand its potential inference market to 30 million hyperscale servers worldwide while dramatically reducing the cost of delivering deep learning-based services.
In February 2018, AMD released the EPYC Embedded 3000 series processor and the AMD Ryzen Embedded V1000 processor, which offer high performance, exceptional integration and on-chip security.
In June 2021 – NYDIG, a digital asset management firm, partnered with NCR Corporation to make crypto purchases available to credit unions and 650 banks. The effort is in response to consumer demand from NCR Bank customers who have purchased digital money through third-party exchanges.
Segment Overview
Component Insights
In 2021, hardware was the most important part of the market and made up more than 82.0% of global revenue. The hardware segment is expected to grow because cryptocurrency miners are getting faster at processing and using less power. Because customer expectations have changed, many businesses have made equipment for mining bitcoin. To make mining devices, you need fast, effective, and stable hardware like graphics processing units. Because of these things, the industry is likely to grow a lot during the time frame of the forecast.
Hardware Insights
Application-specific integrated circuits made up more than 43.0% of global revenue in 2021 and led the market. Application-Specific Integrated Circuits, or ASICs, are electronic circuits that are made to mine virtual currencies like Bitcoin, Litecoin, and Ethereum. ASIC miners are becoming more and more popular as companies look for ways to mine cryptocurrency that use less energy. ASIC also needs less maintenance and uses less energy, which should help the market grow.
Software Insights
In 2021, the most important part of the market was exchange software, which made up more than 32.0% of the global revenue. For cryptocurrency transactions to go through, you must use exchange software. This software makes it easy to change cryptocurrency coins into fiat currencies and vice versa. More and more software is being made to make trading cryptocurrency easier, which is likely to help the segment grow.
Process Insights
In 2021, mining was the market leader and brought in more than 74.0% of the world's revenue. As part of the mining process, transactions on the blockchain are checked to make sure they are correct. Coins are added to the supply chain when they are mined. Around the world, many businesses are setting up and building crypto miner farms so that cryptocurrency miners can have a better time mining.
Type Insights
In 2021, bitcoin made up more than 35.0% of the world's revenue and led the market. During the time frame of the forecast, this segment is expected to grow the fastest. Bitcoin is a digital currency that can be used as an alternative way to pay that doesn't involve a central bank. The number of Bitcoin Exchange Traded Funds (ETFs) is expected to increase the number of Bitcoin trades around the world during the forecast period. In May 2022, for example, USD 207 million came into Canada's Purse Bitcoin ETF. The most money that came in was this much.
End-use Insights
In 2021, the trading segment was the most important part of the market, making up more than 27.0% of the global revenue. People can buy, sell, check their asset balances, and get deposit addresses when they trade in cryptocurrencies. Several companies that make browser technology are focusing on forming partnerships with companies that make blockchain technology so that their clients can trade cryptocurrency more easily.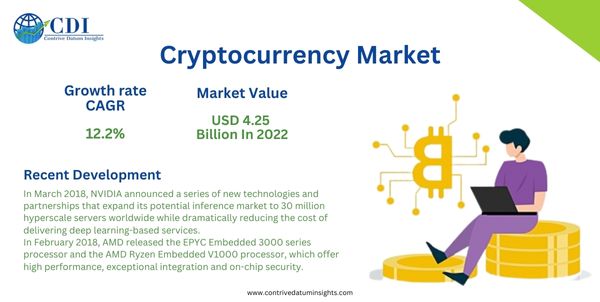 Regional Outlook:
North America had the biggest share of the global market in 2020. This was because most countries in North America did not tax bitcoins as money, but as a way to trade goods. Even though there are no laws about digital money, it is still used in many developed countries. The market is growing because both buyers and sellers are willing to take digital cash. Also, a few big players control the market in North America, and bitcoin mining is popular.
Buy this Premium Research Report@
https://www.contrivedatuminsights.com/buy/248376/?Mode=PM
Scope of Report:
Report Attributes
Details
Growth Rate
CAGR of 12.2% from 2023 to 2030.
Revenue Forecast by 2022                       
USD 4.25 Billion
By Type
Bitcoin, Bitcoin Cash, Ethereum, Litecoin, Ripple, Others
By End-use
Banking, Gaming, Government, Healthcare, Retail & E-commerce, Trading, Others
By Hardware
Central Processing Unit, Graphics Processing Unit, Application-Specific Integrated Circuit, Field Programmable Gate Array, Others
By Component
Hardware, Software, Others
By Software
Mining Software, Exchange Software, Wallet, Payment, Others
By Companies 
Bitmain Technologies Ltd. (Beijing, China), Xilinx, Inc. (California, U.S.), Intel Corporation (California, U.S.), Advanced Micro Devices, Inc. (California, U.S.), Ripple Labs, Inc. (California, U.S.), Bitfury Group Limited. (Amsterdam, U.K.), Ledger SAS (Paris, France), Nvidia Corporation (California, U.S.), BitGo (California, U.S.), Xapo (Zürich, Switzerland)
Regions and Countries Covered

North America: (US, Canada, Mexico, Rest of North America)
Europe(Germany, France, Italy, Spain, UK, Nordic Countries, Benelux Union, Rest of Europe)
Asia-Pacific (Japan, China, India, Australia, South Korea, Southeast Asia, Rest of Asia-Pacific)
The Middle East & Africa(Saudi Arabia, UAE, Egypt, South Africa, Rest of the Middle East & Africa)
Latin America(Brazil, Argentina, Rest of Latin America)
Rest Of the World

Base Year
 2022
Historical Year
 2017 to 2022
Forecast Year
 2023 to 2030
Drivers:
When transactions happen without the people involved knowing about them, this can cause problems. This happens a lot in Asian countries, where fraudulent or unwanted transactions, like the automatic deduction of scheduled fees, are common.
This could happen if a person made a mistake, if a machine made a mistake, or if the data was changed during the transaction. Customers could lose a lot of money if this happens. Also, most financial institutions don't admit when they were wrong. People don't like the way money works now because they don't know how it works.
Restraint:
The cryptocurrency market doesn't have any rules yet. At the moment, a big reason why people don't use cryptocurrencies is that there aren't any rules about them and they're hard to understand.
Financial regulators all over the world are trying to agree on rules for cryptocurrencies, but one of the biggest problems is that regulators still don't accept them. Since distributed ledger technology is still in its early stages, it makes regulators and policymakers at the national and international levels wonder about a lot of things.
Opportunity:
Companies in the cryptocurrency market are likely to have a lot of opportunities to grow in both emerging economies (like India, China, and Brazil) and developed countries (like the US, Germany, and Japan).
For example, in 2020, crypto companies in Brazil signed a self-regulatory code that aims to make crypto assets more accepted and popular in the country. Abcripto, which is a group of cryptocurrency companies in the country, helped sign the document.
The goal of the agreement is to make sure that all members use the same business practises and meet the same standards of compliance. Some of the most well-known cryptocurrency companies in the country, like Foxbit, Ripio, Bitcoin Market, and Novadax, signed the code.
Key Segments Covered:
Top Market Players:
Bitmain Technologies Ltd. (Beijing, China), Xilinx, Inc. (California, U.S.), Intel Corporation (California, U.S.), Advanced Micro Devices, Inc. (California, U.S.), Ripple Labs, Inc. (California, U.S.), Bitfury Group Limited. (Amsterdam, U.K.), Ledger SAS (Paris, France), Nvidia Corporation (California, U.S.), BitGo (California, U.S.), Xapo (Zürich, Switzerland, and others.
By Component
By Hardware
Central Processing Unit
Graphics Processing Unit
Application-Specific Integrated Circuit
Field Programmable Gate Array
By…


Read More: Cryptocurrency Market Is Expected To Reach around USD 4.25