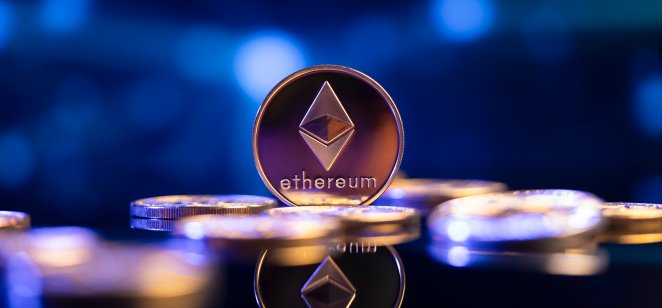 Ether (ETH) price lost over a quarter of its value in November 2022 on fears of an industry-wide contagion and concerns of cryptocurrency market dump following the collapse of leading crypto exchange FTX.
ETH/USD live chart
Weekly trade data compiled by CoinShares revealed that institutional and retail market participants were extremely bearish as a record number of investors took up short ETH positions in the third week of November. Will an overcrowded short market lead to an ethereum short squeeze? 
What is Ethereum?
Ethereum is a programmable blockchain that allows developers to deploy decentralised applications (dApps) in its network. Unlike Bitcoin (BTC), which aims to become a global payments network, Ethereum aims to be a world's computer.
"While Bitcoin is only a payment network, Ethereum is more like a marketplace of financial services, games, social networks and other apps that respect your privacy and cannot censor you," read Ethereum.org
Ethereum's native token ether (ETH) which is used to pay transaction fees or gas fees on the network is the second largest cryptocurrency by market capitalisation, as of 28 November.
At the time of writing, ETH was priced at about $1170 and was valued at over $143bn. Only BTC was valued higher than ETH at a market cap of over $311bn, as of 28 November.
In 2022, Ethereum completed its long awaited transition from proof-of-work (PoW) consensus mechanism to proof-of-stake (PoS). The move is expected to help Ethereum become more scalable and less energy consumptive.
What is your sentiment on ETH/USD?
Vote to see Traders sentiment!
Shorting ethereum
Short selling is the process of borrowing an asset and selling it with the hope of buying it back at a lower price.
Bearish traders can short ETH by simply selling their tokens in exchange for fiat, stablecoins or other cryptocurrencies and buying back the ETH after its price has gone down.
Traders can also use financial derivatives to speculate on the price of ETH without owning the underlying token. Note that derivatives often use leverage, which magnifies both profits and losses and contains high risk.
Ether prices slump on crypto contagion fears
In November 2022, the bankruptcy of crypto exchange FTX sent a weakened cryptocurrency market down.  
At current prices of below $1,170, as of 28 November, the world's second largest cryptocurrency was on track to post monthly losses of over 25% for November 2022. At the time of writing (28 November), ETH posted year-to-date losses of nearly 70% and was 76% below its all-time high of $4,891.
Fears of a FTX-induced crypto contagion have hampered any recovery in ETH prices, which dropped to a low of $1,073 on 9 November.
On 16 November, institutional crypto trading platform Genesis suspended redemptions and new loan originations in its lending business.
However, FTX has created unprecedented market turmoil, resulting in abnormal withdrawal requests which have exceeded our current liquidity.

— Genesis (@GenesisTrading) November 16, 2022
Genesis, which was described as the "biggest trading desk for professional investors in cryptocurrency markets", said that panic in the markets had led to "abnormal withdrawal requests" and a bank run.
"What will happen to Genesis Trading which is/was Bitcoin's biggest OTC desk and major crypto lender. What will the implications be for parent company Digital Currency Group which is invested in over 200 companies across crypto. And what does this mean for The Grayscale bitcoin and ethereum Trusts?" wrote cryptocurrency market expert Lark Davis in a 25 November newsletter. He added:
"The nuclear scenario is that the trusts are unwound and 635,000 bitcoin and 3 million ethereum are dumped into the market. Sadly, at the time of writing I have no indication on how this all resolves."
Adding to the bearish investor sentiment was news of hackers stealing cryptocurrencies worth about $477m from the now-bankrupt FTX exchange, as reported by blockchain crime analytics firm Elliptic.
Fears of an ETH market dump were on the cards as blockchain security platform CertiK revealed on 20 November that the "FTX Wallet Drainer" was the 37th largest holder of ETH, with about 200,735 ETH tokens.
#CertiKSkynetAlert ????

FTX Wallet Drainer is now the 37th largest holder of ETH

Dropped 10 places after transferring 50,000 ETH to 0x866E this morning ????

We're also continuing to see ETH swapped for renBTC in 0x866E

Wallet currently holds ~1127 renBTC and ~19k ETH pic.twitter.com/sPJjtoWwud

— CertiK Alert (@CertiKAlert) November 20, 2022
Record ETH short interest 
The bad crypto industry news has whetted the appetite of ethereum short sellers.
The bearishness reached such a fever pitch that digital asset trading firm CoinShares revealed that short investment product inflows into cryptocurrencies hit a record high in the third week of November.
According to CoinShares, short investment product inflows represented 75% of the total inflows during the week. Total crypto assets under management (AUM) slumped to its lowest in two years.
CoinShares said the "aggregate sentiment was deeply negative for the asset class".
However, the possibility of an ETH short squeeze was looming as CoinShares reported that record numbers of investors had invested in short-ethereum investment products to the sum of $14m in the third week of November
Ethereum crypto short squeeze outlook
With the short ETH market getting crowded, the likeliness of a short squeeze cannot be ruled out.
Blockchain analytics firm CryptoQuant wrote in a 26 November note that an ethereum squeeze could occur soon.
CryptoQuant said that the amount of ETH flowing into crypto exchanges has spiked in recent days to more than 100,000 ETH per hour as investors made moves to manage their exposure to the volatile markets amid fear and uncertainty.
"Nevertheless, the dominance of the short positions might result in a short-squeeze event soon," added CryptoQuant.
Elsewhere, data from Binance, the world's largest crypto exchange in terms of daily trading volume, revealed that the percentage of accounts holding short ETH/USDT perpetual positions increased from about 31% to over 46% in the last seven days, as of 28 November.
Final thoughts on ethereum short squeeze
Forecasting ethereum short squeeze is a challenging task due to the unknowns of the future. Therefore, it is important to note that analysts and experts can be wrong in their ethereum squeeze predictions.
Forecasts shouldn't be used as a substitute for your own research. Always conduct your own due diligence. Remember that your decision to trade or invest should depend on your risk tolerance, expertise in the market, portfolio size, and goals. Keep in mind that past performance is no guarantee of future results. And never trade money that you cannot afford to lose. 
FAQs
Can ethereum be shorted?

Bearish traders can short ETH by simply selling their tokens in exchange for stablecoins or other cryptocurrency and buying back the ETH after the price has gone down. Traders can also use financial derivatives to speculate on the price of ETH without owning the underlying token. Note that derivatives often use leverage, which magnifies both profits and losses and contains high risk.
Can ethereum crash to zero?

Although ETH has never crashed to zero, the possibility of a cryptocurrency falling to zero valuations cannot be ruled out due to heightened volatility of cryptocurrency markets.. Note that analysts' predictions can be wrong and shouldn't be used as a substitute for your own research.
Why is ethereum going down?

Fears of a crypto contagion following the bankruptcy of FTX exchange and concerns of ETH market dump has caused ETH to lose over 20% in November 2022.
Related reading




Read More: Ethereum Short Squeeze | Everything You Need to Know About ETH